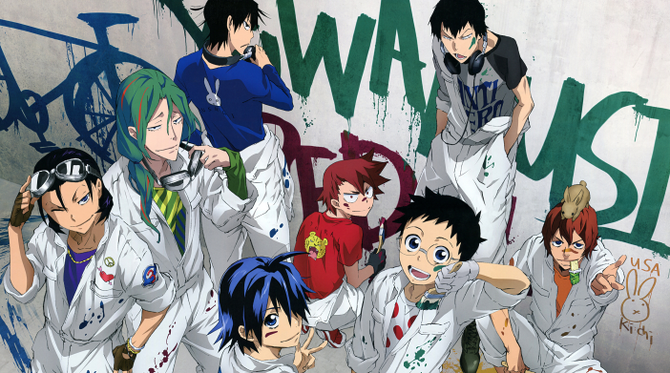 The art and animation of YowaPeda's television series visibly struggled to maintain quality. In countless episodes, I noticed character designs melting into extremes. You can make a fair amount of excuses for facial distortions based on the grotesque natures of many of the characters–notably Shinkai and Midousuji–but it's obvious when the drawing gets sloppy outside of those special circumstances and action cuts. In contrast, the film actually looks great on the big screen, with time and care given to the drawings of the team members' faces and bodily proportions. CG was used in key areas to smooth the transition to cycling, particularly during dynamic scenes.
The length of the movie, unlike the series, limits the amount of drag that is all too common in  the sports anime genre. The movie doesn't have too many of the old flashbacks or standstill monologs. The bulk time is instead focused on the race, and any time freeze was used to describe the really climatic part of the race like when Onoda panicked on the first day of the two-day race. There's a relatable feeling of time warping as fear sets in, the heart stops beating, and the stomach drops.
This race being the last time that team Shohoku is riding together because the third years are retiring, to add salt to injury, we found out that Makishima's acceptance to an out-of-country school means he'll miss out on this opportunity. Makishima has always been a prince of sorts for our characters. Toudou looks to him as the ultimate rival; Onoda gazes upward in awe of his role model. He is the " mountain spider" in the climbing circle, and the spirit that binds the team together.
Makishima retirement serves as character development for Onoda into the position of  the lead climber. He has the pressure as the recent Inter-High champion to live up to. He also has to carry his team as the sole climber of the group up the mountain.
I really enjoy the ending of the movie and is looking forward to the third season of the series. I want more Hime singing and see how a new team will be formed.